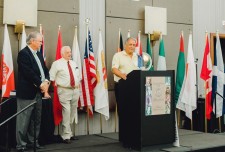 CHATTANOOGA, Tenn., October 18, 2018 (Newswire.com) - Ohio businessman Ted Durig was honored with the Dave Jones Leadership Award given to an experienced towing industry leader who has demonstrated leadership, dedication, character and vision, among other qualities, during a special ceremony held in Chattanooga.
Durig is the founder and owner of Sandy's Towing of Dayton, Ohio, one of the largest towing and recovery companies in the nation. He is only the fourth person to be recognized with the Dave Jones Leadership Award, following Randall Resch of California (2017), John Glass of New Jersey (2016) and Betty Cornwell of Maryland (2015).
"Getting the award was special," says Durig, 68. "I knew Dave Jones. He certainly was an influence in my life and in the towing business."
Durig has cultivated success by being a calculated risk taker, accumulating over 200 pieces of equipment, inking contracts with law enforcement agencies and handling 80,000 calls a year.
"He has made tough decisions that were a gamble and very risky," according to his nomination application. "These risks have almost always panned out to be successful, becoming catalysts for growth for Sandy's."
Compared to when Durig started out straight out of college, the towing and recovery industry is changing, with bigger companies and more sophisticated operations, he says. Gone are the days when gasoline service stations also offered towing. Today, towing is an industry unto itself.
"Towing is its own beat now because of the cost of equipment."
Durig has groomed others for leadership roles in the company, using his core values and principles to grow the next generation of leaders. "The biggest thing I have learned from Ted is to always think about what is coming up next within the industry," states his nomination. "He has shown me to identify new opportunities and threats to the industry and be ready to adapt and be ahead of the curve."
He became a business owner at the age of 22 when he and a partner bought Sandy's Towing, which had "three, tired one-tons and a much used 600" at the time, according to a Tow Times article dated December 1984. In all, Durig has invested over 45 years in the towing and recovery industry.
But perhaps Durig's most enduring legacy may be his dedication to not only the towing and recovery industry but to his staff, some of whom have been with Sandy's Towing for over three decades. "He has remained dedicated to his employees through good times and bad."
About the Dave Jones Leadership Award:
The Dave Jones Leadership Award was created in 2014 by TT Publications Inc., publisher of Tow Times magazine, and the Dave Jones family to honor the late Florida towing and recovery icon who pushed to professionalize the industry. Each year the award winner is chosen by the Dave Jones family.
Source: Tow Times magazine